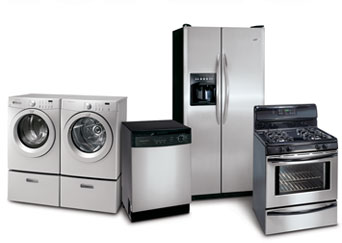 Like all of your other household appliances, garbage disposals are wonderful when they're working up to speed. After all, they eliminate the nasty odors from putting food waste into the garbage can, decrease the amount of trash you need collected every week, and offer the convenience of refuse removal at the flick of a switch. But considering the amount of grinding your garbage disposal does on a daily basis, not to mention how often small utensils can fall in and become lodged, it's not hard to see why this common kitchen convenience can be prone to damage and breakage. 
When the one-switch operation of your garbage disposal has been derailed, simply make one call to Hayes Appliance Repair. Whether you're replacing a defective unit or you're installing your very first disposal ever, our experienced technicians are only a phone call away to help you with garbage disposal installation services. Besides, given the electrical and plumbing skills required to do the job right, garbage disposal installations can be tricky. So skip any thoughts of a do-it-yourself attempt and leave the mechanical work to the appliance repair company with more than 20 years of experience in working with kitchen equipment: Hayes Appliance Repair. When done wrong, a garbage disposal installation can actually result in extensive damage to your water pipes and sink area, as well as a major mess. So save yourself a lot of time, misery, and cleanup by relying on our team of pros.
As specialists in garbage disposal hook ups, Hayes Appliance Repair is fully trained and equipped to handle every detail of these intricate installations with complete precision and ease. From reconfiguring your under-the-sink plumbing to the electrical setup, we can ensure the safety and satisfaction of your garbage disposal install job, whatever type of model or manufacturer it's from. Simply give us a call to schedule a convenient service call. We'll work around your hours to find the time that's best for you.
Save Now on Service
At Hayes Appliance Repair, we work hard to keep our prices low for working families throughout Boston, Middlesex County, and beyond. By setting our rates according to the Major Appliance Service National Price Guide, and completing our appliance repairs on the first service call 98% of the time, we can assure you of an honest deal on a job done well. And now you can save even more on your appliance repair when you use our online coupon. We'll take $10 off the cost of any repair, including garbage disposal installation and more. Give us a call today!