Preparing healthy, delicious meals is nearly impossible without a properly working oven in the house. But don't sacrifice good nutrition or quality family time because of a defective appliance. With Hayes Appliance Repair, you'll have the trusted technical expertise you need for every major cooking appliance you own, from oven and stove repair to cooktop and range repair. We have more than 20 years of experience in residential oven repair work, and that hands-on knowledge allows us to diagnose and resolve virtually any operational issue you encounter. Whether you're looking for routine oven repair help or emergency assistance for a high-end range repair, you can count on our team for some of the best rates and response times in all of Boston. Simply contact us today via phone or e-mail to make your appointment for oven, range, or stove repair.
Appliances with defective heating elements or faulty broilers are not only hazardous to your recipes, but they can also lead to personal injury. That's why the wise choice is to leave your oven repair service in the capable hands of Hayes Appliance Repair. Since we're trained to work on both electric and gas range repair, we can help you avoid the potential dangers of DIY attempts to fix the problem. Plus, our extensive understanding of stove and oven repair issues covers pretty much any possible concern you're likely to come across, including: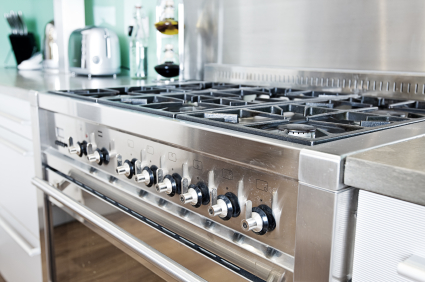 Inadequate heating
Excessive heating
Uneven heat distribution
Heat on outside of unit
Broken lights, timers, or dials
Inoperable burners
Damaged doors
Sparking
And more!
Why go another day relying on expensive takeout or disappointing microwaved meals? With one quick call to Hayes Appliance Repair, your oven repair troubles could be over. We work hard to maintain our 98% rate of completion on the first service call, and our oven and stove repair service is no exception. In addition, we'll check over a second appliance in your home for only $30 more. That's a great way to keep all of your major cooking equipment in tip-top condition when you have us repair oven, stove, or range malfunctions together in one prompt, professional house call.
As a local, family-owned company, we recognize the importance of serving up good, quality fare in your home. If the caliber of your cooking has been compromised due to a damaged appliance, don't hesitate to get in touch with Hayes Appliance Repair. Regardless of what make or model of cooking equipment you have in your kitchen, our seasoned oven repair pros can help. We're here whenever you need us for stove repair, range repair, and cooktop repair, and our service area stretches from Newton to Milton to Boston and all the surrounding towns. Get your kitchen cooking again: Call or e-mail us today for your oven repair!